Top Tent Manufacturers
Bargain Tents is one of the renowned Private Limited Company having its sales office located in B.K.C Mumbai one of the lavishing corporate area in Mumbai Suburb. We are the Top Tent Manufacturers in India and also are the leading supplier worldwide, We are into the international markets for over 2 decades accomplishing nationwide stores, branches around the world with a factory plant setup in South Africa - Durban and a upcoming factory and stores in India very soon, All manufacturing, research & development, conception, design, testing and quality control take place in our factory in Durban. We are also occupied with a high level of experienced staff, dedicated to their work to provide quality services, guidance and product knowledge to the customer, The implementation of total quality management (TQM) allows our customer care department to deal with minimal issues as we believe that customer satisfaction is key to a successful enterprise. Our tents are designed and manufactured with the most technologically advanced equipment in the industry, we keep a close eye on the evolving manufacturing industry, and as it grows we undergo expansions and complete machinery updates. We are specialize in manufacturing customize tents as the requirement for it is increasing due to the increase in events in various location with their unique conception of requirement.
Tent House for Sale
Bargain tents is your complete event solution partner, We provide tent house for sale namely Peg & Pole Tents, Aluminium Tents, Frame Tents, Bedouin Stretch Tents, Alpine Tents, Marquee Tents, Pagoda Tents, Exhibition Tents, Canvas Tents, Military Tents, Disaster Tents, Army Tents, Relief Tents, Shelter Tents, Medical Tents, Emergency Tents, Arcum Tents, Arch Roof Tents, Storage Warehouse Tents, Refugee Tents, Wedding Tents, Function tents, Party Tents, Army Surplus Tents, Camping Tents, Event Tents with a customization as an option to our clients. We not only manufacture tents but also are the leading supplier and exporter of tent accessories like Plastic Chairs, Tiffany Chairs, Gold Tiffany Chairs, Black Tiffany Chairs, Silver Tiffany Chairs, Clear Resin Tiffany Chairs, Wimbledon Chairs, Phoenix Chairs, Ghost Chairs, Wedding Chairs, Table, Round Table, Plastic Folding Tables, Steel Folding Tables, Chair Covers, Draping Material, Mobile Chillers, Tarpaulin, Movable Toilets, Portable Toilets, Flooring and Gas Stoves. The above goods are made from high quality material and resources which can last long for years, Our tents comes in various sizes and in variant colors to choose from. Packaging are done keeping in mind the safety of goods like Hardware are packed in a wooden case, Frame packed in membrane film, Roof and side wall in professional PVC carry bags.
OUR MISSION STATEMENT
Bargain Tents aims is only to satisfy customer by providing high end quality tents and tent accessories which meets the international standard worldwide. The customize tents made by our experienced staff are very unique and strong which is one of the recognization of Bargain Tents.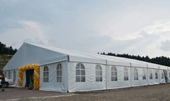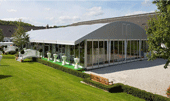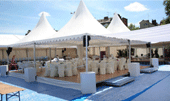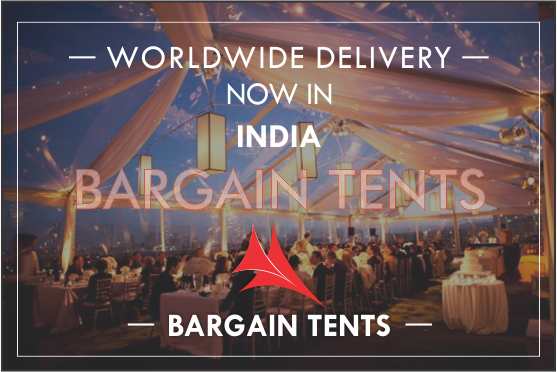 OUR PRODUCTS
All our products are manufactured from the high end quality material and resources which meets the international standard. Experience a satisfactory tent with us.
Canvas Tents Manufacturers & Exporters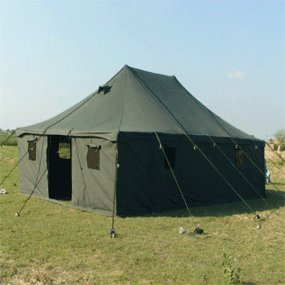 Army Tents
Bargain tents are the leading Manufacturers, Suppliers, Exporters, Traders, Dealers, Manufacturing Companies, Producers, Distributors, Wholesaler & Retailer in Army Tent worldwide.
Read More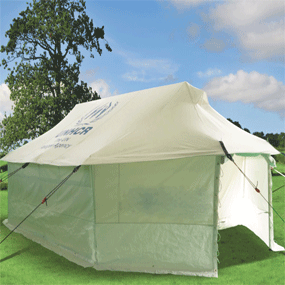 Refugee Tent
Bargain Tents manufacture world class Refugee Tent in a bulk which can be used for any emergency situation worldwide. We are the largest supplier of Refugee Tent in India and worldwide.
Read More

Have never had better service from any other individual and company as I have with you. Every time we contact you, your response is quick, timely, professional, detailed and positive.
Mogie Kapoor

Our Aluminium tents are here and they look fabulous!! Just wanted to send a quick Thank You to you and your company. We look forward to doing more business with you guys in the near future.
Aamir Khan

Helps me to meet my deadline, thanks for your wonderful service. I will definitely recommend to my colleagues. Five stars from my side.
Raj Malhotra